news , features , Preview , planning
Originally Published: 08/02/2022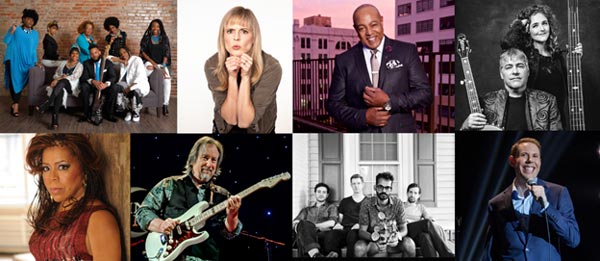 (South Orange, NJ)—A great voice of love, the progenitor of funk, the high priestess of R&B, and the king and queen of the banjo—are some of the much-anticipated musical acts in the 2022-23 season. South Orange Performing Arts Center (SOPAC),
New Jersey stage picks include The James Hunter Six; John Pizzarelli and Katherine Russell performing songs by Frank Sinatra and Billie Holiday; Kathleen Edwards; Josh Ritter; and Martin Sexton. Plus you can't go wrong Grammy winners like Judy Collins, Peabo Bryson, George Porter Jr., Bella Fleck, Paula Cole.
"We are thrilled to say that SOPAC is SO BACK!" Says Beth Philstra, SOPAC's CFO and interim COO. "This season will mark our first full, in-person season since the 2018-2019 season. Along with our enthusiasm for these captivating artists is our profound resilience as an organization."
SOPAC remained closed for two and a half years due to COVID-19 and Hurricane Ida treatments before fully reopening the Jennifer and Tony Leitner Performance Hall last spring. The venue features a new stage and orchestra pit, freshly painted walls and modern carpeting throughout the building, which also includes the Herb + Millie Iris Gallery.
"We have, literally, weathered the storm," said Philistra. "This season will be the rainbow we've been waiting for. We look forward to you joining us when we return to provide high quality art experiences."
Advertise with New Jersey Stage for $50-$100 per Month, Click Here for Info
---
---
full season lineup
Jazz, Rhythm and Blues
Peabo Bryson – Saturday, September 10 at 7:00 pm and 9:30 pm. Dubbed the King of the Balladiers, Peabo Bryson is a two-time Grammy-winning singer best known for her hit song, "Tonight, I Celebrate My Love" with Roberta Flack. This legendary voice of love delivers a timeless blend of pop, soul and R&B. Tickets: $59-$79.
George Porter Jr. and Runnin' Parners – Thursday, September 15 at 7:30 pm. Funk's ancestor, George Porter Jr., is best known as a member of The Meters, the New Orleans-based Grammy-winning R&B group he formed with Art "Poppa Funk" Neville, Leo Nocentelli, and Joseph Zigaboo Modelist. Tickets: $35-$49.
James Hunter Six – Friday 23 September at 8:00 pm. British soulman James Hunter and his gritty, longtime backing band bring you a sublime evening of no-nonsense blues. Given his qualities, he has shared the stage with acts as diverse as Alan Toussaint, Sharon Jones and Van Morrison. Tickets: $36-$56.
Billy and Blue Eyes: Songs by Frank Sinatra and Billie Holiday, performed by John Pizzarelli and Katherine Russell – Saturday, September 24 at 8:00 pm. John Pizzarelli and Katherine Russell are a dynamic duo that will transport audiences to the glory days of jazz with superb ease, capturing Sinatra's cool swagger and Holiday's effortless grace. Tickets: $48-$68.
Delphio Marsalis Quintet – Friday, September 30 at 8:00 pm. Acclaimed trombonist, composer and producer Delfio Marsalis is known for his "technical excellence, inventive mind and consistent touch of humour" (Los Angeles TimesA native of New Orleans, he is the brother of famous trumpeter Wynton Marsalis. Tickets: $35-$45.
Betty LaVette and Raul Midone – Friday, October 7th at 8:00 pm. Soul singer-songwriter Betty LaVette has been called the High Priestess of R&B. Her "Pure Blues Grow" has drawn comparisons to this Grammy-nominated performer to Aretha Franklin and Tina Turner. Blind from birth, Raul Midon lives in a world of sound. His tropical groove, silky voice and electric guitar are his signature. Tickets: $42-$59.
https://www.youtube.com/watch?v=oVWHOXCUCpY
No mountain is too high! Valerie Simpson and Friends Sing Ashford and Simpson , Friday, November 11 at 8:00 pm. Valerie Simpson has spent a lifetime writing chart-topping anthems with her late husband Nick Ashford as a unit known as Ashford & Simpson. The two wrote timeless hits such as "Ain't No Mountain High Enough," "Reach Out and Touch Somebody's Hand" and "I'm Every Woman" for Chaka Khan, Diana Ross, Whitney Houston, and others before they began performing. Own career ticket: $58-$88.
https://www.youtube.com/watch?v=2Pf6ru9vfVI
Russell Thompkins Jr. and the New Stylistics – Friday, January 20 at 8:00 pm. Russell Thompkins Jr. and The New Stylistics are bringing back falsetto! After a career spanning more than 40 years, this soul group continues to perform their hit R&B ballads, including "You're Everything" and the Grammy-nominated "You Make Me Feel Brand New". Tickets: $65-$85.
Lucky Chops: New Day, New Tour Saturday, January 28 at 8:00 pm. Big, choppy and unexpectedly bold. Born in the multicultural melting pot of New York City, the six-piece band pays homage to the New Orleans brass band tradition, while incorporating eclectic rock, funk, jazz, ska, gospel and EDM. The group's irresistible groove is led by co-founder Josh Holcomb's soulful trombone, Daro Behrozzi's soaring sax and Joshua Gavel's powerful trumpet. Tickets: $26-$35.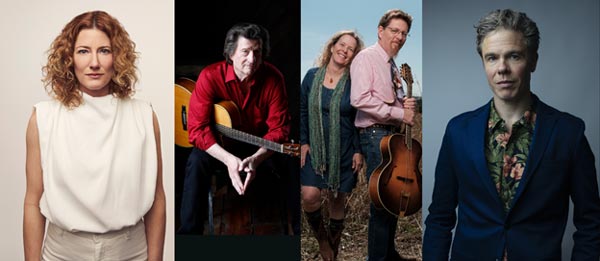 singer-songwriter
---
Advertise with New Jersey Stage for $50-$100 per Month, Click Here for Info
---
David Brozza and Trio Havana – Saturday, September 17th at 8:00 pm. Israeli superstar David Broza is known for his dynamic guitar performances and humanitarian efforts. Their signature sound is influenced by Spanish flamenco, American folk, rock and poetry. Tickets: $30-$48.
Kathleen Edwards – Thursday 22 September at 7:30 pm. After a musical hiatus and a period of intense self-reflection, singer-songwriter Kathleen Edwards returns triumphantly with her brilliant voice, masterful strumming and folk/country music that tackles life's challenges, yet finds beauty in it. She goes. Tickets: $28-$38.
Jan Fabricius with Chris Smither and Tim O'Brien – Saturday, October 8 at 8:00 pm. A master of acoustic folk/blues, Chris Smither creates a singular guitar sound – a beat-driven finger-picking, layered over his rhythmic, tapping feet (always micked in the performance). A lifelong devotee of bluegrass, Tim O'Brien is proficient in guitar, mandolin, fiddle and banjo. He often performs with his wife, singer Jan Fabricius. Tickets: $35-$45.
Bella Flack and Abigail Washburn – Wednesday, October 26 at 7:30 pm. Bella Flack and Abigail Washburn, "The King and Queen of the Banjo" (Paste it Magazine), is a musical partnership like no other. Bella is a fifteen-time Grammy winner, having taken the instrument in multiple genres. Abigail is a singer-songwriter and clawhammer banjo player. Tickets: $49-$84.
darlingside – Wednesday, November 9 at 7:30 pm. Darlingside has long been admired for their mesmerizing harmonies and awe-inspiring songwriting, described as NPR as "excellently arranged, literary-minded, baroque folk-pop" and compared to Crosby, Stills and Nash; Simon and Garfunkel; and The Birds. Tickets: $28-$38.
Paula Cole and Sophie B Hawkins – Thursday, November 10 at 7:30 pm. Inspired by the radiant voice of Grammy winner Paula Cole, there is a music catalog defined by honest songs that include blues, jazz, folk, pop, gospel and Americana. Multi-instrumentalist Sophie B. Hawkins has been touching hearts with her heartwarming story for decades. The two are known for their indelible 90s hits—Cole's "I Don't Want To Wait" and Hawkins' "As I Let Me Down". Tickets: $38-$49.
An Evening With Josh Ritter – Thursday November 17th at 7:30 pm. With an expressive voice, deep wit and words provocatively, folk-rock artist Josh Ritter has been described as "the withdrawal of Bob Dylan, Bruce Springsteen and perhaps a little bit Mark Knopfler" (new York Times) and named one of the "100 Greatest Living Songwriters" by Paste it magazine. Tickets: $39-$49.
martin sexton – Saturday, December 3 at 8:00 pm. Martin Sexton's upbeat songs span the American musical gamut, including soul, country and blues. The guitarist has been praised for "his clear heart". (new York Times) and his "soul-spicy voice" (Rolling stone) Tickets: $38-$48
Since 2006, South Orange Performing Arts Center (SOPAC) Serving as a major performing arts center in the area. SOPAC provides innovative artistic and cultural experiences for diverse audiences in an intimate, inviting environment. The Arts Center hosts a variety of live performances, community events, and education programs for all ages. Seton Hall is home to University Arts Council performances, including the SOPAC Classical Concert Series, Jazz 'n the Hall Performances, and Seton Hall University Theater productions. SOPAC programs are made possible by the National Endowment for the Arts and the New Jersey State Council on the Arts. The South Orange Performing Arts Center (SOPAC) is a 501(c)(3) charitable organization.